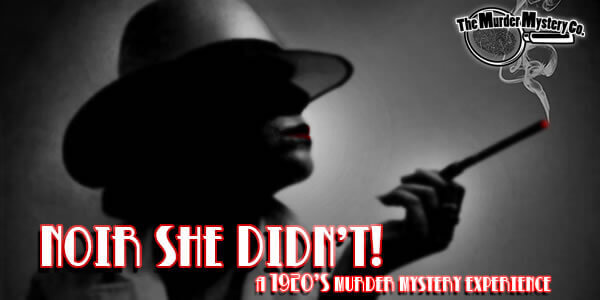 Noir She Didn't
Things aren't looking good at Terry Bull's Restaurant when a proposal gone right goes horribly wrong with a tragic demise! This speakeasy scene ain't so easy now that the fuzz are on the prowl, and Mafia Don Terry Bull is fit to be tied while the detective tries to crack the case. Which one of these juice joint patrons is to blame? Bribe other guests for clues and gather information to solve the crime and get the good times rolling again. Don your pinstripe suits and get dolled up in your favorite 1920's film noir evening gowns and cocktail dresses to make an entrance no one will forget!
← Back to More Themes
Book this Theme
Host a Mystery
Whether you have an intimate gathering of 8 people, or a good size crowd of 8,000, the Murder Mystery Company is the ultimate event solution. Contact us now so we can plan your murder today!