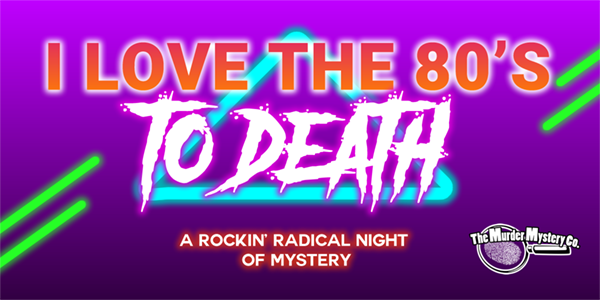 I Love the 80's to Death
Poison Ratenstein is in town for a killer concert, but his fans may be looking for a refund after this twisted tour turns tragic with a murder and a mystery to solve. This radical show could be super lame if no one can solve who was buggin' so we can all cool out and get the show started! Help the crowd and the detective figure out who ruined this totally tubular night, so everyone can like, take a chill pill.
Make sure you are dressed with the times or someone may ask you to bag your head! Grab your most righteous 80's concert gear to rock out in style while you solve a crime with your friends. Jean jackets and spandex leggings, big hair, bangles, and don't forget leg warmers and ripped jeans. These will be all the rage at this rocking night of mystery. See you there!
← Back to More Themes
Book this Theme
Host a Mystery
Whether you have an intimate gathering of 8 people, or a good size crowd of 8,000, the Murder Mystery Company is the ultimate event solution. Contact us now so we can plan your murder today!